Trimming

Assembling shells

Re-enforcing shells

Final trimming

High detail

Attachments (armature assembly, magnetic armatures, wire armatures, etc..)

Piston/Actuator construction

Mid-section assembly

Building the display base

Final assembly

Painting/Plating

Optional electronics (lights & sound)
Tools needed for these steps include: Belt sander, bandsaw, power drill, sandpaper of various grits, dremel with various bits, CA glue with spray kicker, bondo, pvc cement, gorilla glue.
Materials needed (not included in the kit): apoxie sculpt (aves supply), rubber sheeting (ace hardware), wiring (radio shack), mdf board (home depot), 1" pvc stock and 1" pvc joints (home depot), sheet metal, wood screws and bolts (home depot), and 3" magnetic disks (available online).
We'll start with the head and work our way down to the feet. Here we go!!!!!!!!
Let's start by looking at the kit components:
The head kit consists of 2 thermal formed shells comprising the face and back of the head, a horseshoe ring, neckring, 2 neckbolts, an antenna, 2 eye grills, a rear head port, PVC neck, and 2 transluscent eye cups.
Give the head a coat of primer and use a fine grit paper to polish. Assembling the eyes, details, and electronics are discussed in the ASSEMBLY stages after the plating stage (see further below).

Alternate Head kit consists of: resin cast shell, 2 eye grills, antenna, 2 neckbolts, 2 transcluscent eye cups. (see below)
Each hand is 4 pieces(unless you're getting the wearable hands): a lightweight casting with 3 knuckle pistons. Use bondo and putty to fill any showing seamlines and move foward to: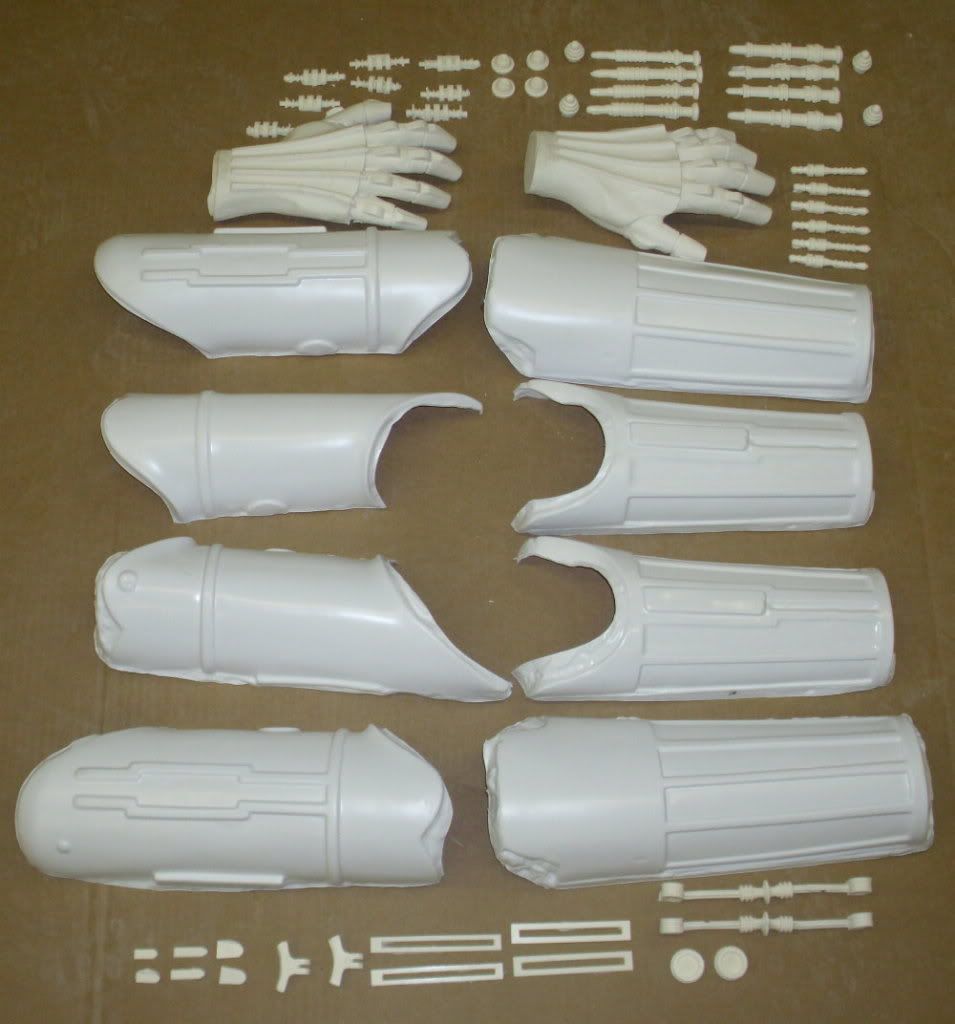 With the arm shells i'll show you the construction of the biceps separataely from the forearms. First the biceps:





When trimming the biceps, you can adjust the width of the final pieces by using a heatgun to reshape the countours. A few of the parts need adjusdment using this technique anyways but if you are going for a wearable suit, you can adjust them in even further to make skinnier pieces.
One you have the two shells on each side, user superglue and spray kicker to spot glue them into position. Now cover the interior seamlines with bondo, then PVC cement over the top to adhere the bondo to the plastic. Be sure to wipe off any excess PVC cement as it is caustic to the plastic surface. Once all this is dried you will have a VERY secure adhesion.




Now use the provided resin cast pieces to add the forearm knob in place, the piston tab, the high piston detail, groove plates, and piston head attachments.